Virtual Research Environments featured in ERCIM News
The Research and Society section of the latest issue of ERCIM News (Number 109, April 2017) is dedicated to Virtual Research Environments and includes several VRE4EIC contributions:
Ask for your personal copy or download it from https://ercim-news.ercim.eu/!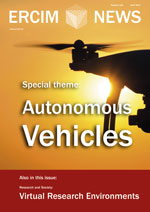 About ERCIM News

ERCIM News is the magazine of ERCIM. It reports on joint actions of the ERCIM partners, and aims to reflect the contribution made by ERCIM to the European Community in Information Technology. Through short articles and news items, it provides a forum for the exchange of information between the institutes and also with the wider scientific community. Each issue focuses on a special theme identified by the editorial board. ERCIM News is published quarterly. ERCIM News currently maintains a circulation of 4,000 printed copies and more than 7,500 people subscribed to the online edition. ERCIM News reaches about 10.000 readers worldwide. ERCIM News is licensed under a Creative Commons Attribution 4.0 International License (CC-BY).